Our Golf Concierge offers a free booking service for your tee times in Tenerife with a saving of up to 10% compared to booking direct.
Discounts and special offers are available for 2+ players, larger discounts for groups (12+).
If visiting in the high and mid season (October to April) book early, the courses can fill fast.
Abama Golf Resort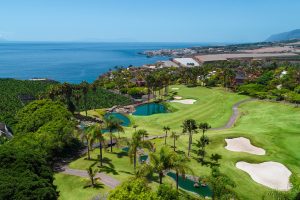 This beautifully manicured course has magnificent views of the mountains and Atlantic Ocean.
The course features lakes, palm tree lined fairways and beautiful greens. It's a course that you can't help but want to play again and again.
Low Season (May – September) – High Season (October to April)
Amarilla Golf


Designed by Donald Steel and opened in 1989, Amarilla Golf has seen huge improvements to both the course and facilities over the last few years.
A good test for golfers of all abilities as it winds down to sea level and the picturesque signature Hole 5, a 100mt Par 3 that plays over the Atlantic Ocean to the green.
Low Season (May – September) – Mid Season (April & October) – High Season (November to March)
Buenavista Golf


This Seve Ballesteros masterpiece is located on the southern tip of the island, away from the main tourist areas and well worth the 75 minute trip through the magnificent Masca Valley.
Bordered by the towering Teno mountains and the Atlantic Ocean this Par 72 links style course features 6 Par 3's, 6 Par 4's and 6 Par 5's.
Low Season (May – September) – Mid Season (April & October) – High Season (November to March)
Costa Adeje Golf


The beautifully manicured Championship course of Golf Costa Adeje is built on the site of an old banana plantation with many of the natural features and stone walls having been restored and included in the design.
Low Season (May – September) – High Season (October to April)
Golf del Sur


The 27 hole Golf del Sur is made up of 3 seperate 9 hole courses, the "North", "South" and "LInks", each with a par of 36. Originally designed by Pepe Gancedo and opened in 1987 it was remodelled in 2005 by Spanish golf legend Manuel Piñero.
Low Season (May – September) – Mid Season (April & October) – High Season (November to March)
Golf Las Americas


A beautiful parkland course set in the heart of Playa de las Americas with lakes and tree-lined fairways featuring on a number of the stunning golf holes.
The signature hole is the stunning Par 3 5th which plays from a raised tee over a lake to the green.
Low Season (May – September) – Mid Season (April & October) – High Season (November to March)
Real Club de Tenerife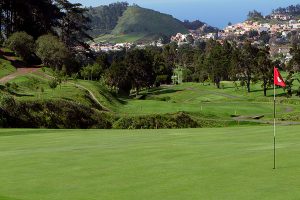 The oldest course in Tenerife and 2nd oldest in Spain, this private members club allows access to guests on weekday mornings.
A high altitude, scenic course with some stunning golf holes.
Mon – Fri 8:00am – 12:30pm
Low Season (May – September) – High Season (October to April)
Tecina Golf, La Gomera


Catch the 9:00am express ferry for the 45 minute crossing to La Gomera for 18 holes on the spectacular Tecina course. Return ferry at 6:00pm.
Low Season (May – September) including buggy and unlimited golf
High Season (October to April)